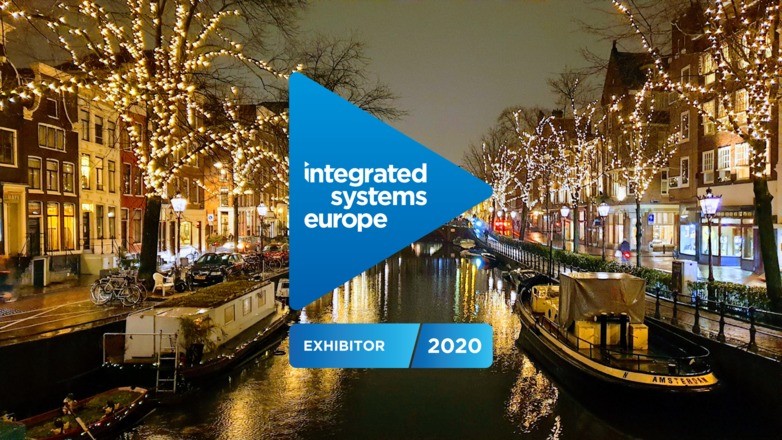 ISE Integrated Systems Europe ISE 11-14 February 2020
DATE:
11th February to 14th of February 2020
LOCATION:
RAI Amsterdam Europaplein 2-22 1078 GZ Amsterdam The Netherlands
The world's biggest pro AV ISE Integrated Systems Europe
ISE Tuesday 11th - Friday 14th February 2020 show
We look forward to welcoming you to the RAI Amsterdam on 11-14 February for ISE 2020. Integrated Systems Europe is the world's largest exhibition for AV and systems integration.
This edition of the show promises to be the most compelling yet, with a full professional development programme supported by our association co-owners AVIXA and CEDIA, and our biggest conference programme ever.
At ISE 2020, you'll be Making Deeper Connections with the newest technologies, the latest ideas – and the global AV industry.

WHAT'S ON AT ISE 2020?
ISE Show Floor
Make the most of your visit to Amsterdam. As well as presenting over 1,300 leading technology and solutions providers, ISE 2020 will showcase a unique set of special events, conferences, keynote speeches, networking receptions, education & training programmes and show floor features. These take place pre-show and throughout the four-day exhibition.

Where is the FBT Stand?

FBT ELETTRONICA SPA. Schedule a meeting at
Booth: 7-H210,7-R220
FBT designs and manufactures highly professional audio products, with the aim of improving sound quality, FBT is now a leading industry at national and international level. A long high varied experience ranging from Professional Audio Equipment, through Audio Contractor installed sound systems, now FBT includes also the brand of PASO, a leading industrial company born in 1973 coming from the historic company GELOSO, present in the Public Address international markets since 1931.
Categories
Audio Processing
Audio Systems & Acoustics
Conferencing & Collaboration
Furniture, Racks, Cases & Mounts
Paging and Evacuation Systems

FULL Exhibitors list https://www.iseurope.org/exhibitor-list/
Location & Opening Hours
ISE 2020 will take place at RAI Amsterdam on Tuesday the 11th to Friday the 14th February 2020.

ADDRESS
RAI Amsterdam
Europaplein 2-22
1078 GZ Amsterdam
The Netherlands
Tuesday 11 February
10:00 – 18:00
Wednesday 12 February
09:30 – 18:00
Thursday 13 February
09:30 – 18:00
Friday 14 February
09:30 – 16:00

Admission pricing
Registration is only available online.
Up to 10 February:
EUR 119.83 + VAT = EUR 145
(Ticket valid for all four show days)
From 11 February onwards:
EUR 144.62 + VAT = EUR 175
(Ticket valid for all four show days)
Onsite registration is also possible during the show on one of the registration desk computers.